Description
Baldor M3607T
1.5 HP
3 Phase Motor
* * * T E F C * * *
List Price: $989.00

Excellent & Dependable Industrial Grade Baldor motor.
TEFC – totally enclosed, fanned cooled (great for dusty environments or low air cooling)!!!
Sturdily Built, low noise.
No Vibration and no bogging down.
1 1/2 Horsepower
100% tested ( 3 Phase ) and working Flawlessly
Fast Processing
30 Day Warranty
These were pulled from a light industrial working environment. They were originally used for cooling fans then the project was abandoned. Motors are in excellent physical, cosmetic and working condition. If they weren't, we wouldn't be offering them for sale.
Please provide a commercial business address to ship to. Residential will not be possible due to the 70 pound restriction. If a residential address is the default ebay address we will contact you prior to shipping to obtain a commercial address. Thank you for understanding.
We package well and we ship ASAP!!! Usually same day…always within 24-hours.
A tracking number will be included.
Weekend orders always go out on Monday.
Holiday orders always go out the very next business day.
If you have any questions please send us a message. We are quite knowledgeable in these motors. Thank You for your business.
<< Several of the same Motors Available !!>>
<< discount for 10 or more >>
<< Please send message, if interested >>
Performance Curves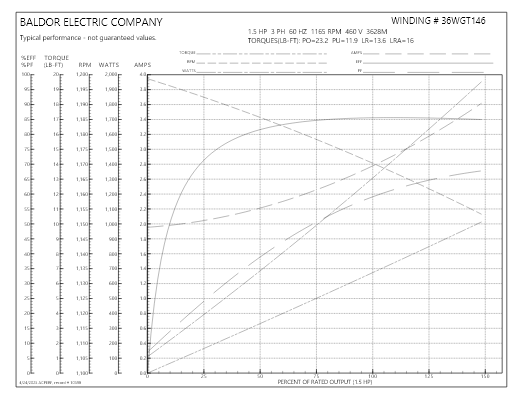 Load Characteristics
| Rated Load | 0% | 25% | 50% | 75% | 100% | 125% | 150% | S.F. |
| --- | --- | --- | --- | --- | --- | --- | --- | --- |
| Power Factor | 7.0 | 24.0 | 40.0 | 51.0 | 59.0 | 65.0 | 69.0 | 63.0 |
| Efficiency | 0.0 | 71.6 | 81.5 | 84.7 | 85.7 | 85.6 | 84.9 | 85.6 |
| Speed (RPM) | 1,199 | 1,192 | 1,185 | 1,178 | 1,171 | 1,162 | 1,153 | 1,166 |
| Line Amps | 1.96 | 2.04 | 2.22 | 2.46 | 2.79 | 3.17 | 3.61 | 3.02 |
Output @ Frequency
1.500 HP @ 60 HZ
Synchronous Speed @ Frequency
1200 RPM @ 60 HZ
Voltage @ Frequency
460.0 V @ 60 HZ
230.0 V @ 60 HZ
208.0 V @ 60 HZ
XP Division
Not Applicable
Auxillary Box
No Auxillary Box
Auxillary Box Lead Termination
None
Bearing Grease Type
Polyrex EM (-20F +300F)
Current @ Voltage
2.800 A @ 460.0 V
5.600 A @ 230.0 V
5.700 A @ 208.0 V
Efficiency @ 100% Load
85.5 %
Electrically Isolated Bearing
Not Electrically Isolated
Feedback Device
No Feedback
High Voltage Full Load Amps
2.8 a
Front Shaft Indicator
None
Heater Indicator
No Heater
Inverter Code
Not Inverter
Lifting Lugs
No Lifting Lugs
Locked Bearing Indicator
No Locked Bearing
Motor Lead Termination
Flying Leads
Motor Lead Quantity/Wire Size
9 @ 16 AWG
Product Family
General Purpose
Pulley End Bearing Type
Ball
Pulley Shaft Indicator
Standard
Shaft Extension Location
Pulley End
Shaft Ground Indicator
No Shaft Grounding
Shaft Slinger Indicator
No Slinger
Starting Method
Direct on line
Thermal Device – Bearing
None
Thermal Device – Winding
None
Vibration Sensor Indicator
No Vibration Sensor